Above: Gov. Phil Murphy celebrates at the groundbreaking for the Phase II Residence Hall at Stockton University Atlantic City. Photo courtesy of University Relations and Marketing.
On Wednesday, October 14, Phase II Residence Hall at Stockton University Atlantic City hosted its groundbreaking, where Governor Phil Murphy, State Senator Chris A. Brown, Atlantic City Mayor and Stockton Alumni Marty Small and others spoke to the critical components in making the project happen.
A ceremonial shoveling took place where the new residence hall will be located, which is set to be completed in 2023.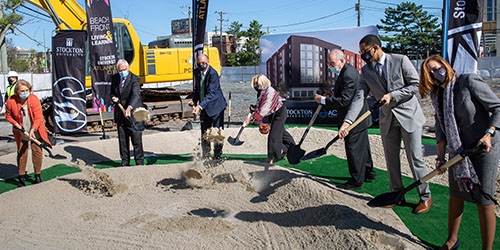 The new residence hall at Atlantic and South Providence avenues will be six-stories and hold 416 beds. It will sit across from O'Donnell Park and the Stockton AC Campus. More than 200 guests attended the outdoor groundbreaking ceremony held in O'Donnell park.
Stockton student and Atlantic City campus resident Taylor Dungan shared her excitement for others being able to live on the campus: "I am excited that more people can choose to live in Atlantic City if they want to…t's really nice — kitchens, bathrooms, computer labs, free shuttles, food nearby…. It's pretty cool," said Dungan.
Once the $4.6 million in funding was approved by the Governor in late August, phase II of Stockton's AC Campus began to work.
As Stockton University continues to expand its campus and its education, Murphy emphasizes a point that many have come to realize: Atlantic City is no longer only powered by its entertainment, but by its academics, entrepreneurs and the arts. 
Stockton University had original intentions of breaking the ground on the $64 million project back in March, however COVID-19 forced a pause to the funds as the state's finances began to slip.
President Harvey Kesselman reiterated the importance of building infrastructure in the Atlantic City area as it demonstrates the commitment to the success of the University District in the city.
While the concern of crowdedness with a new 400+ beds may be an issue to some, Dungan reassured that since COVID-19, the AC campus has been pretty quiet, and most students quarantine in their rooms.
"The residence hall will bring an opportunity for those who wanted to live on the AC campus to experience it," said Dungan. I know that these additions also help Atlantic City have that "turning point" with the dubbed "University District" and thus help improve Stockton as a whole while also giving more people a choice to live in Atlantic City."
The plans for the second phase of the residence hall have been with a fickle battle. The funds initially approved in June 2019 were held for several months, then re-released in January of 2020, and then abandoned in April when the pandemic struck the country.
The plan was released at least as early as May of 2019 when the University Board of Trustees met to discuss Phase II.
When construction for Stockton's Atlantic City campus opening originally began in September of 2016, the $156 million campus included an academic building, housing for 500 students, and a parking garage. Construction finished in August of 2018, and students were admitted into the new residence hall for the Fall semester following.
This construction was just the beginning of Stockton's expansion into the city.
The groundbreaking ceremony followed social distancing measures with masks required to everyone who was not speaking and provided distanced seating.