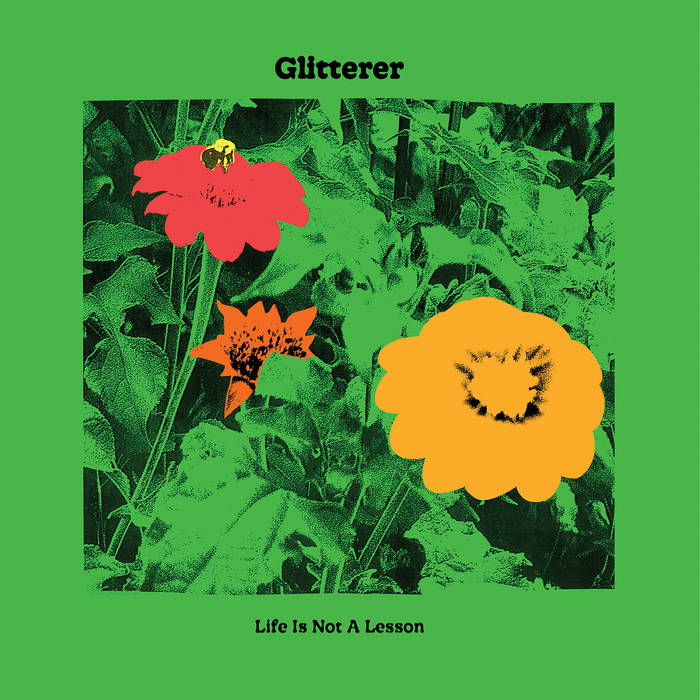 The third LP from Kingston, Pennsylvania's own Glitterer was an incredibly fun listen. Ned Russin, formerly of hardcore heavyweights Title Fight (RIP) comes through with a collection of 12 snappy, fuzzy, poppy tunes that are as sharp as they are sophisticated.
Ned plays all the instruments on this project, except for the drums, which were manned by his brother Ben, also ex-Title Fight (RIP.) A lot of the material seems to be a logical progression from the music that Title Fight (RIP) were making in the latter stages of their career. Albums like "Floral Green" and "Hyperview" definitely have some kin here, with the dream pop-influenced stylings of the opening track "Bodies," as well as further down the track list on "I Made The Call." The album's lighter moments, such as the sparse "Fire" stand out for not having the shoegazey trappings of the rest of the album, but the production of the album makes it make sense. There's a progression from the more bombastic tracks at the outset to the near-skeletal pieces toward the end, giving the track list something of a narrative arc. I really appreciate the sequencing of this album, and it's evident that great care was taken to establish a listening experience meant to be taken all at once, with many tracks segueing in and out of one another.
Detractors may come to the conclusion that every song sounds the same. Indeed, the album can get a bit repetitive in places, but all that means is that there's a uniform production style; an aesthetic that Ned and company were aiming for. They certainly achieved it, and did so in a way that'll keep the listener interested and coming back to this well-crafted record for the foreseeable future. Sit down and listen to it all the way through. Keep coming back. You'll be rewarded.
You can stream and buy "Life Is Not A Lesson" HERE. Follow Glitterer on Instagram HERE. if you have any suggestions for albums I should review in the future, you can DM me on Instagram HERE.