Written for The Argo by Kinza Jarral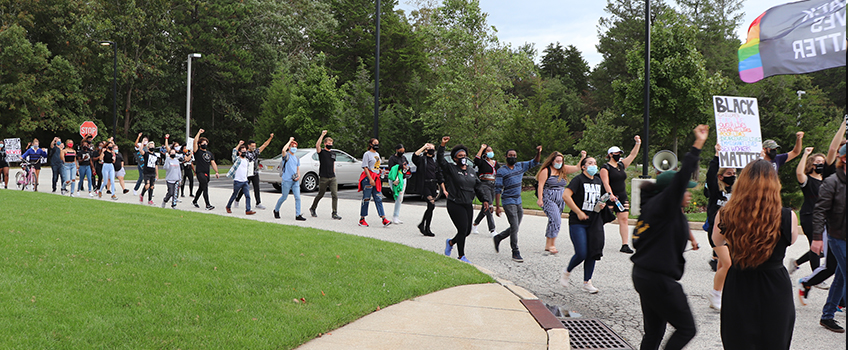 On September 30, the Unified Black Students Society and Stockton's Chapter of the NAACP with support from the Environmental Club, sponsored the #SayTheirNames rally. More than a hundred students and faculty members gathered to march around campus. The route started at the Townsend Residential Live Center and went all the way around Lake Fred, ending at the Arts and Sciences building.
Briana Davis, a sophomore Political Science major at Stockton University, participated in the rally and gave a speech. Civil rights and the fight for equality in America is something Davis cares about deeply, and fuels her desire to demonstrate in support of the Black Lives Matter movement.
During her speech, Davis discussed the deaths of countless Black men and women at the hands of corrupt police officers, saying the names of the most recent victims such as George Floyd and Breonna Taylor.
"I think it is a beautiful and incredible thing that we all are stepping outside of ourselves for a bigger cause. Every single one of you sees the value of life and the value of black lives. Every single one of you sees how systemic racism affects the black community every day," Davis said in her speech. "Every single one of you wants change. And every single one of you has a voice to do just that. So you guys can give yourselves a hand for being outstanding people."
"As a Black woman in America, sometimes I get fearful for my life and the lives of my black family members," Davis said. "After centuries of oppression, I have gotten fed up with seeing the brutal way systematic racism has continued to impact the black community."
Stockton's students at the march said they hope to see more protests at Stocktom that fight for a better campus and better America.